Ethnic party-wear gownsfor women are the epitome of elegance, beauty, and sophistication in 2023. From weddings to festivals, these gowns have become a go-to choice for women who want to make a statement with their attire. With a wide range of styles, colours, and designs available online, ethnic party wear dresses are the perfect way to add a touch of glamour to any special occasion.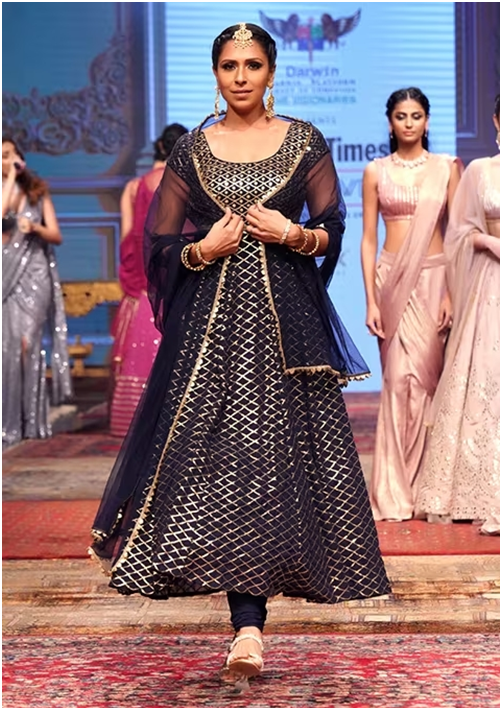 Designer dresses, Women Kurtas, Long Anarkali, and Lehenga Choli are some of the most popular choices. Each of these dresses has its own unique design and style that caters to the diverse taste of the modern Indian woman. So, if you want to make a statement on your next special occasion, invest in a party wear gown that suits your style and personality.
This blog is all about exploring the latest party wear dress trends and designs that are making a statement in 2023. So, whether you are a fashionista or just looking for some inspiration for your next event or party OOTD stay with us to get the trend alert!
Party Wear Gown Styles That are Making a Statement This Season
Women Kurtas – A Timeless Classic
Kurtas are timeless ethnic wear for women that have been a part of Indian culture for centuries. Whether it's a formal event or a casual get-together, you can never go wrong with a designer Kurta.
Pick refreshing kurta gown styles such as printed Maxi kurtas, tiered maxi dresses, slit kurtas, embroidered front dupatta kurtas, high-slit halter kurtas, and long kurtas with attached dupattas.
Long Anarkali Gown – Graceful and Elegant
Long, floor-length Anarkali is another popular ethnic party wear choice among women. These dresses are known for their graceful, elegant designs and timeless appeal. Long Anarkali gowns are a beautiful tale of flowing fabrics and intricate embroideries, making these dresses perfect for weddings and other social gatherings.
Some trending Long Anarkali gown styles in 2023 are Sequin embroidered Anarkali gown, draped floor-length Anarkali dress, belted long Anarkali kurta, and churidar sleeve long Anarkali kurta.
Lehenga Choli – The Quintessential Indian Attire
This quintessential Indian attire is known for its exquisite design, luxurious feel, and dreamy flare. A Lehenga Choli is a three-piece ensemble that consists of a long skirt, a choli (blouse), and a dupatta (scarf). These dresses come in a variety of designs, ranging from simple embellishments, and captivating prints to elaborate hand embroideries. Designer Lehenga Choli dresses are perfect for weddings and other grand occasions.
Think ruffled lehenga, ethnic lehenga skirts, tiered lehenga choli set with dupatta, embellished lehengas, and lehenga sarees.
How to Choose an ethnic Party Wear Gown According to Your Body Type
Choosing the perfect ethnic party wear gown according to your body type can make all the difference in how you look and feel at any event. Every woman is unique and has a different body shape, so it is crucial to pick an ethnic dress that flatters your figure and elevates your personality. Additionally, understanding your body type can make you feel more confident and connected with yourself.
For women with an hourglass figure, a fitted gown that cinches at the waist and accentuates your curves would look great. On the other hand, if you have a pear-shaped body, go for an A-line kurta or gown that balances out the hips and thighs. Women with apple-shaped body types should opt for a party gown with a fitted bodice and flowing skirt that skims over their midsection. Those with a petite frame can try a high-waisted dress with a hemline that falls just above the knee to elongate their legs.
Conclusion
The world of ethnic party-wear gownsonline is limitless! So, whether you prefer traditional attire or ethnic-fusion wear, don't hesitate to explore and experiment with different styles, cuts, patterns, prints, and designs to find the perfect party-wear dress that reflects your unique personality and taste.
What's your go-to ethnic party wear style? Tell us in the comments below.